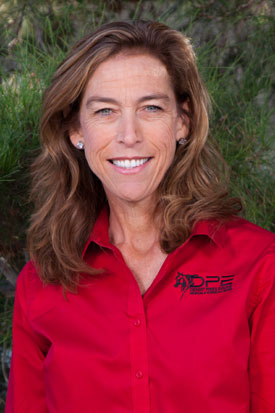 Leslie A. Schur, DVM
Dr. Leslie Schur is a 1995 graduate of Michigan State University. She originally hails from the Northwest state of Washington where she was active in the equine community in her youth. After completing an internship at Arizona Equine she moved to Las Vegas to join into practice with Dr. Lamb. In 1998 Dr. Lamb and Dr. Schur opened Desert Pines Equine Center together.
Dr. Schur enjoys focusing on the "Equine Athlete" in a total body health approach to the performance horse. "I enjoy working as a team with the horse, their owner, trainer and farrier, to help them keep feeling their best. The better they feel the better they perform!" says Dr. Schur. " It has been a pleasure to work closely with a number of equine athletes over the years and being an integral part of the team of professionals that care for them!" She enjoys the puzzles of difficult lameness cases and advanced diagnostic imaging such as; digital ultrasound and radiography.
Dr. Schur has served on the American Association of Equine Practioners' Equine Welfare committee, served as the co-moderator for the Western Performance Horse Rounds , worked closely with the PRCA animal welfare group , and currently serves as a member of the AAEP Performance horse committee.
Dr. Schur is married to Darrell Moser and they have 3 beautiful cowgirls who never leave a dull moment in their lives. The years to come will never be less than eventful chasing our girls down the rodeo trail! Whenever there is an extra moment away from Desert Pines Equine or helping mold her little barrel racers, she competes in barrel racing in professional rodeo herself.
---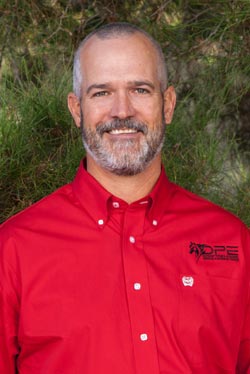 Wyatt Winchell, DVM, MS
Diplomate, American College of Veterinary Surgeons
Dr. Wyatt Winchell was born and raised in northern Nevada. His love of horses developed early in life while growing up on his family's cattle ranch in Starr Valley. Dr. Winchell is a graduate of Colorado State University, College of Veterinary Medicine and Biomedical Sciences. After graduation he completed a one year internship at Rood & Riddle Equine Hospital in Lexington, KY. This was followed by a three year surgical residency program at The Ohio State University where he continued to develop his skills in surgery and lameness. After his residency training, Dr. Winchell was hired at The Ohio State University as a clinical instructor in orthopedics and emergency & critical care. Prior to joining Desert Pines Equine Medicine and Surgical Center Dr. Winchell has spent time working in two private referral practices, Valley View Animal Hospital in Dover, OH and Brazos Valley Equine Hospital in Navasota , TX. Dr. Winchell has strong interests in lameness, arthroscopic surgery, upper airway surgery, and performance problems. In Dr. Winchell's spare time he enjoys spending time with his family, riding, and pursuing his new interest in Brazilian Jiu-Jitsu.
---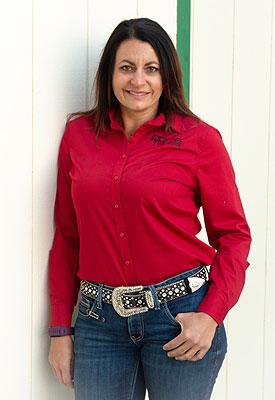 Darla K. Moser, DVM
Dr. Darla K. Moser grew up in Las Vegas, Nevada. She grew up barrel racing and rodeoing throughout Nevada and Southern Utah. In 2002, Dr. Moser started working at Desert Pines Equine Center as an assistant and became a licensed technician. Thereafter, she obtained her Bachelor's of Animal Science in 2007 and her Doctor of Veterinary Medicine in 2012 from Colorado State University. During her collegiate career she worked as an equine emergency technician for CSU, an orthopedic research center surgery technician at CSU and a bovine artificial insemination technician for Schleining Genetics, LLC during the school year. During holiday breaks, she made time to come home and work at Desert Pines Equine Center. After graduation, she completed an equine internship with strong surgical focus at Chaparral Veterinary Medical Center in Cave Creek, AZ. Dr. Moser then completed a large animal surgical residency at Oklahoma State University with an equine focus. Her residency research focused on regional limb perfusions and how to better treat distal limb sepsis in our equine patients. In all of her "spare time" she enjoys spending time with her friends and family- both the 2 and 4-legged kind, riding horses and kickboxing. Her interests are in equine soft tissue surgery, equine critical care, and lameness.
---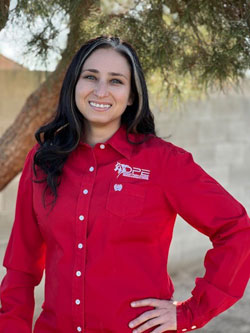 Ilana Glasberg, DVM
Dr. Ilana Glasberg joined the Desert Pines Equine team as a residency-trained internal medicine specialist (she is currently pursuing board certification from the American College of Veterinary Internal Medicine). Dr. Glasberg grew up in Maryland, a quick 30-minute drive from Washington, DC. From there, she earned her Bachelor's Degree in Animal and Veterinary Sciences from Clemson University (go Tigers!). After graduation, Dr. Glasberg spent the next 3 years on a beach in the Caribbean (though she simultaneously attended classes) in Grenada, West Indies. She was awarded her Doctorate of Veterinary Medicine by St. George's University in 2015, after completing her clinical year at Louisiana State University. Dr. Glasberg completed two internships: one at West Coast Equine in Somis, California, and a second at the University of Illinois. She then remained in Illinois to complete an Equine Internal Medicine residency. Dr. Glasberg moved to Nevada in December 2021 to work as an associate veterinarian at Comstock Equine Hospital in Reno.
Dr. Glasberg is excited to join the DPE team and begin providing routine and specialty services. Though she loves all aspects of internal medicine, she has a soft spot for neonatology, and loves working through the puzzles that come with complex cases. When she's not at the clinic, Dr. Glasberg enjoys spending time with her pet dog Carly and her cat Kefira shies away from the spotlight), working out, and curling up with a good book. She looks forward to exploring local hikes (believe it or not, Dr. Glasberg is excited about desert weather), trips to the coast, and hopes to start riding horses again.
---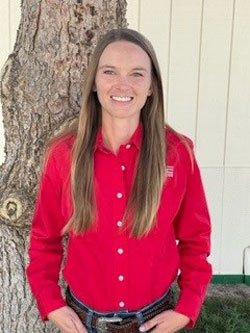 Celene M. Ivey, DVM
Dr. Ivey was born and raised in San Diego, CA. She grew up riding horses in various disciplines and has experience with off-the-track thoroughbreds and colt starting. After completing a bachelor's degree in animal science at UC Davis, she moved to Missouri for veterinary school and earned her DVM degree at the University of Missouri in 2022. After graduating, Dr. Ivey completed an internship at Wilhite & Frees Equine Hospital in Kansas City, Missouri. Her professional interests include equine wellness, dentistry, lameness, and emergency work. In her free time, Dr. Ivey enjoys hiking and traveling with her husband, Zack. She also loves to spend time with her two geldings, Howie and Punchy, and practice obedience training with her two energetic German Shepherds, Roland, and Petra.
---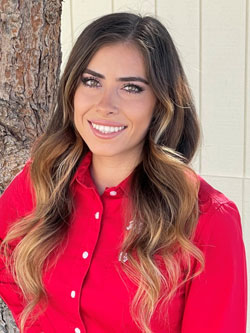 Danessa Garcia, DVM
I was born and raised here in Las Vegas. I grew up with horses and all sorts of animals, and still currently have horses and dogs. After high school, I attended Arizona State University, majoring in Applied Biological Sciences with a concentration in Ecology and Pre-Veterinary Medicine, and received my Bachelor of Science degree. I then attended Oregon State University Carlson College of Veterinary Medicine for four years and recently graduated with a Doctorate in Veterinary Medicine degree. My interests include surgery, reproduction, and integrative medicine. In my free time, I enjoy spending time with my family and pets outdoors, traveling, working out, riding, and cooking. I look forward to working with everyone, learning a lot, and meeting all the patients.
---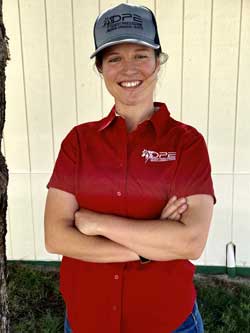 Mathilde Fournier, Veterinarian-Intern
Dr. Mathilde Fournier comes from France. She grew up in the countryside around horses, and her love for them has never left since. She obtained a bachelor's degree in animal sciences in 2017 and entered the International University of Veterinary Medicine of Budapest in Hungary. After she graduated in 2022, she traveled for four months through the USA (Montana, Nevada, Texas) to learn more about equine medicine by performing several externships in different hospitals, including Montana Equine, Signature Equine Hospital, and our clinic. After that, she worked in France with small and large animals for a year, going through the ECFVG certification program. She is joining our team for a one-year internship as a veterinary Intern. In her spare time, she enjoys as much as she can training horses for dressage and going for hikes with her lovely, rescued dog Shiraz.
---